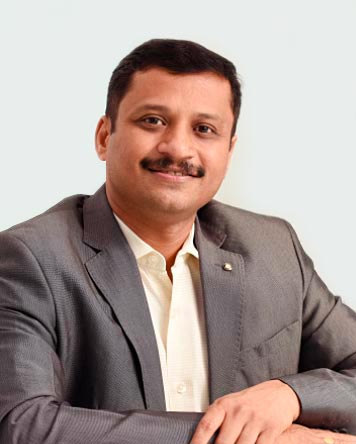 M.D.S.
Prosthodontist & Implantologist
Dr Santosh Dixit is a Prosthodontist – a specialist in reconstructive, aesthetic and implant dentistry. Dr Dixit received his doctoral degree from Bapuji College of Dental Sciences, Davanagere, Karnataka with numerous awards for academic and clinical achievements. He is also a gold medalist for the batch of 1995-99. Later on, Dr Dixit went on to become a specialist in prosthodontics and implantology from A.B. Shetty memorial institute of dental sciences, Mangalore under RGUHS. Dr Dixit is a life member of Indian Society of Oral Implantologists (ISOI).
With vast knowledge in full mouth rehabilitation, cosmetic dentistry, and implant dentistry, Dr Dixit often serves as a consultant to general Dentist and receives referrals from them. Dr Santosh Dixit is founder dentist and centre head at Dixit Dental Care in Pune. He specializes in implants, full mouth rehabilitation, minimally invasive dentistry, cosmetic dentistry, Dentures etc to name a few.
With years of experience, he carries out all the above procedures with perfection and ease hence making the patients very comfortable during complex procedures too. Dr Dixit shares his time between private practice, teaching BDS and MDS students and also presenting guest lectures at various platforms.
His clinical expertise and experience along with academic inclination make him work towards giving his patients overall functional and cosmetic results. His dedication to his profession makes him work with more precision and accuracy.
Professional Summary
17 years of Work Experience as Senior Prosthodontist and implantologist.
Centre head at Dixit Dental Care
Trained in Advanced implantology by Dr Cho Yong-Seok and Dr InSeong Jeon (South Korea).
Trained at TTPHL – All tilt, graftless solutions for implant rehabilitation from Hyderabad.
Trained by Dr Galip Gurel (Istanbul) in Porcelain laminate veneers and smile designing at Mumbai.
Consulting Prosthodontist and Implantologist at 32 Smiles, J M Road, Pune
Former Course Director at BIOHORIZONS Certificate in Oral Implantology, Pune, India.
Consulting implantologist to various clinics in and around Pune.
Honours and awards
Dr Santosh & Dr Archana Dixit were honoured as the FEMINA 'Pune's Most Powerful Couple' for their contribution in the field of Dentistry for the year 2018-19.
Recognized as the 'Most Promising Implantologist of Pune' by India's Merit Awards and Market Research Pvt. Ltd for the year 2018.
Gold medalist for Bachelor of Dental surgery (BDS) in the year 1999.
Best outgoing student for the batch of 1994-99 from the College of Dental Sciences, Davanagere.
Secured State V Rank in the PG Entrance Examination for the year 2001.
Secured State III Rank in Post Graduation in the Dept of Prosthodontics and Implantology, RGUHS Karnataka.
Received President's Scout award from the then president R Venkataraman for the year 1990.
Academic profile
Completed the Course in Basic Implantology from A B Shetty Memorial Institute of Dental Sciences, Mangalore, Karnataka in 2005.
Completed the Course in Advanced Implantology from Cochin Implant Institute, affiliated to the International Congress of Oral Implantologist (ICOI).
Presented numerous papers at national and international conferences.
Professor & Head of the Department at Reputed Dental College in Maharashtra
Academic Mentor to Undergraduates and Postgraduate students.
More about Dr. Santosh…
Ardent practitioner of BKS Iyengar form of yoga
Loves to travel and explore new places
Playing with his kids is like a stress buster.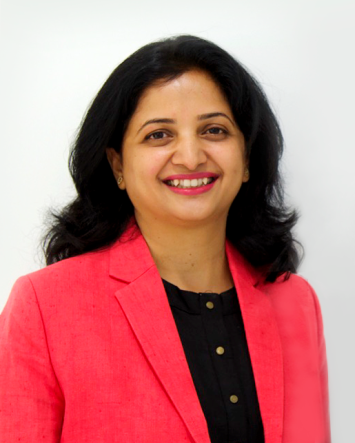 Dr. Archana Dixit
With 18 years of experience in General Dentistry, Dr Archana Dixit is an experienced dental specialist who is known for her expertise in painless Root Canal Treatment.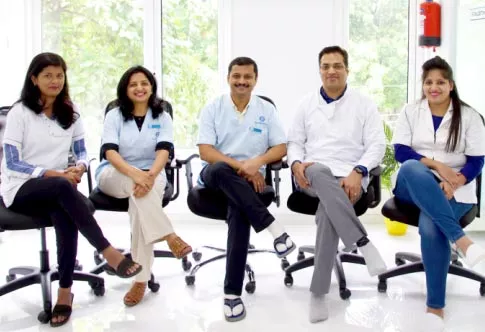 Meet the Team
Dixit Dental Care is Owned and Operated by Dr Santosh Dixit and Dr Archana Dixit, and visited by various Consultant dental specialists.